2017年10月05日
【受賞/表彰等】酒井研究室(D1)高畑和弥さんが粒子・流体プロセス部会シンポジウム賞を受賞されました
【受賞/表彰等】酒井研究室(D1)高畑和弥さんが粒子・流体プロセス部会シンポジウム賞を受賞されました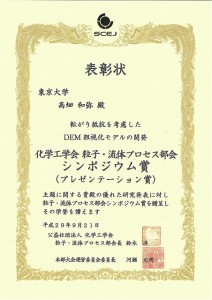 ■受賞日
2017年9月20日
■氏名
高畑 和弥
■学部・研究科、学科(類・課程)・専攻等 と 学年
工学系研究科原子力国際専攻 博士後期課程1年
■受賞した賞の名称と簡単な説明
プレゼンテーション賞
■受賞された研究・活動について
講演タイトル
転がり抵抗を考慮したDEM粗視化モデルの開発
講演概要
製薬や食品工学において、造粒粉体が広く用いられているが、こうした粉体は非球形でありかつ低密度であるため、空気の影響が無視できず、既存のモデルでは計算負荷の観点から大規模体系の計算が実質不可能であった。製品の品質管理やプロセスの最適化の観点から、大規模体系にも適用可能な非球形粒子の新たな計算モデルの開発が望まれていた。本研究では、離散要素法(DEM)における新たな回転抵抗モデルを開発し、大規模体系に適用するため、DEM粗視化モデルとのカップリングを行った。検証計算を通し、本研究で開発したモデルの妥当性が確認され、既存のモデルでは計算不可能であった非球形かつ大規模体系の計算手法を確立した。
■今後の抱負・感想
この度、このような栄誉な賞をいただき大変うれしく思います。
研究のご指導を賜りました酒井幹夫先生ならびに研究室の皆様に深く感謝いたします。
今後も一層研究活動に精進してまいります。
■Name
Kazuya Takabatake
■Faculty/Graduate School, Department (Stream / Program) / Major
PhD student, Department of Nuclear Engineering and Management
School of Engineering
■Name of award and short explanation about the award
Presentation Award
■About awarded research
In pharmaceutical and food industries, non-spherical granulated particles whose density is relatively low are frequently used. From a view point of calculation cost, the calculation of a large-scale problem was substantially impossible by using the existing methods. For the quality control and the optimization of industrial process, it was desired to develop a new calculation model of non-spherical particle system which is applicable to a large-scale problem. In this study, we developed a new rolling friction model in DEM. Besides, we coupled the rolling friction model with DEM coarse grain model for a large-scale system. Through some verification tests, the adequacy of our new model and its applicability to DEM coarse grain model were both proved. We succeeded to establish the new calculation model of a large-scale non-spherical particle system.
■Your impression & future plan
It's my great pleasure to win this award. I really thank Prof. Mikio Sakai for his excellent supervision, and also all members of my laboratory. I will try to improve our researches.